Wow, can the mattresses really get any better than Wenatex? I hope one day when I have money to throw around that I can invest in the place I will spend over half of my life residing. Now, because Wenatex thinks and designs every layer of their mattress down to the silver woven through the fibers to guard against bacteria, they needed a website that really showcased their beautiful mattress.
That's where my site design and even animated web development came in. On the home page, you will see an animation that shows all the separate layers of the mattress, with interactive points you can click to learn more about it. (see below)
It was crucial for me at all points in the design of the website to focus on the elegant features of the mattress.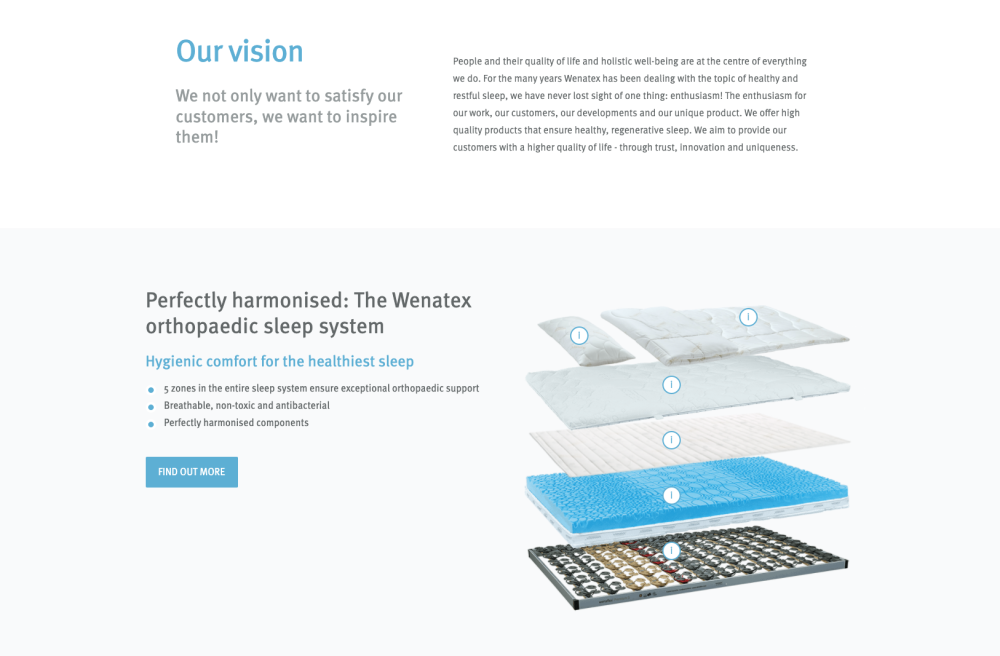 https://www.wenatex.com.au/ (see for yourself!)
But dealing with mostly an older client base, it was a must that the website was clean, minimal, informative, and easy to use
The clients main goals were:
To have a clean and fresh look and revamp to their old website.
To feature the mattress
To have a cleaner user experience for their clients
What was delivered:
A great new look for their website that uplifts and revamps their look and feel
A shop
A blog
Multiple designed sections with the mattress as the focus
Easy to use WordPress website
How do you think we did? Do you prefer the website's updated aesthetics now?
BEFORE SHOT OF HOMEPAGE